Lufft Ceilometer CHM 8k
The LIDAR-based cloud height sensor / ceilometer CHM8k is prepared to work throughout the year and in any climate
The CHM 8k is the latest ceilometer from Lufft. Using the Lidar technique, it detects backscatter aerosol profiles / structure in multiple layers, cloud bases, cloud penetration depths as well as vertical visibility and issues the sky condition index. It has an operating range of up to 8,000m (26,200 ft) and is equipped with an integrated controller offering a fully embedded real-time calculation of all target parameters and comfortable user interfaces. The Lufft ceilometer series is prepared to work throughout the year and in any climate. Due to their double case structure combined with a window blower and an automatic heating system, the ceilometers are free of fogging, precipitation, freezing or overheating issues.
Aerosol backscatter profile, cloud base height, cloud penetration depth, aerosol layer height, cloud cover, vertical visibility, Sky Condition Index
Optical (LIDAR)
Measuring range of up to 8 km (26.246 ft), simple & eye-safe, service-friendly due to modularity, various data telegrams, sensitivity in the range of the Lufft CHM 15k, suitable for the most demanding environments
RS485 (ASCII communication), LAN (Web-Interface, (S-)FTP, NetTools); optional: DSL modem, RS232 for service
Request a quote or advice
Advantages of the Cloud Height Sensor / Ceilometer CHM 8k
These are the advantages of the ceilometer CHM 8k:
Rugged housing and service-friendly operation
Robust against fogging, precipitation, freezing or overheating
Robust against saturation problems due to fog, low stratus clouds that can occur in single axis ceilometers
High accuracy and simultaneous measurements of several parameters
No compromises with regards to functions/ quality compared to CHM 15k
ICAO conform
Interest in more information about the cloud height sensor CHM 8k? Reach out to us and talk to one of our experts!
Example of use of the Cloud Height Sensor / Ceilometer CHM8k
The fields of application / users / insallations sites of the Lufft CHM8k ceilometer are:
Weather / meteo services
Automated Surface Observing Systems (ASOS)
Airports / aviation
Environmental Protection Agencies or universities (for environmental studies of air quality, fine dust & mixing layers)
Heliports
Interest in more information about the cloud height sensor CHM8k? We can recommend you to download our free CHM8k sensor guide, where you can find additional insights on measurement comparisons, product features and more:
Download free CHM8k Sensor Guide
All Information at a Glance - Free Sensor Guide Download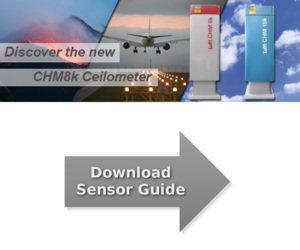 Download the Lufft CHM8k sensor guide presentation to learn more about the key features, benefits and technical specifications for the new CHM8k.
You can also find additional insights on measurement comparisons between the CHM8k and the cloud height sensor CHM15k, which you should not miss. To the free download:
Brochure - Lufft - Ceilometers CHM 8k and CHM 15k

Certificate IEC61010

TÜV Certification - CHM15k, CHM8k

EU declaration of conformity - Lufft CHM8k

EU declaration of conformity - Lufft CHM8k

Firmware - Lufft - CHM8k 1.110

Manual - Lufft - CHM 8k (EN)
| | |
| --- | --- |
| Video - CHM15k: Applications with the Cloud Height Sensor CHM15k | Video - CHM15k: Technical Introduction of the Ceilometer CHM 15k |
Download as PDF
Measuring principle
Lidar (optical, time of flight)
Measuring parameters
Description
Aerosol backscatter profile
Measuring range
0 ... 10 km (0 ... 32,808 ft)
Cloud detection range
5 m ... 8 km (16 … 26,246 ft)
Time resolution
2 ... 600 s
Range resolution
5, 10, 15 m
Quality and auxiliary values
External and internal temperature, window status, laser status, receiver status
Target parameters
Quantities given in layers
Cloud base height,
cloud penetration depth,
aerosol layer height
Number of layers
1 - 9 layers (programmable), 3 layer preset
Distance measurement accuracy against hard target
Greater of ±5 m (±16 ft) or ±0.2%
Additional quantities
Cloud cover in octas (WMO 2700), Vertical visibility in m, Sky condition index
Communication
Standard interfaces
RS485 (ASCII communication)
LAN (Web-Interface, (S-)FTP, NetTools)
Optional interfaces
DSL modem, RS232 for service
Electrical parameters
Power supply
230 VAC or 115 VAC, ±10 %
Power consumption
250 W (Standard)
450 W (in maximum heating mode)
800 W (opt. special version for extended temperature range)
UPS functionality (opt.)
Internal backup battery for electronics, > 1 hrs
Laser-optical parameters
Light source
Laserdiode
Wavelength
905 nm
Pulse energy
< 3
Pulse repetition frequency
8 kHz
Filter Bandwidth
25 nm
Field of view receiver
1.1 mrad
Operating Safety
Environmental compliance
ISO 10109 - 11
Laser protection class
1M, IEC 60825-1:2014; complies with 21 CFR 1040.10 except for deviations pursuant to Laser Notice No. 50, dated June 24, 2007
Protection level housing
IP65
Electrical Safety
EN 61326 - 1 Class B
Certifications
CE (230 VAC);
115 VAC version compatible with FCC/ CSA
International standards
Complies with ICAO frangibility requirements
Operating Conditions
Temperature range
-40 ... +60 °C
Relative humidity
0 ... 100 %
Wind
55 m/s
Physical
Dimensions
500 x 500 x 1550 mm
Weight
70 kg (130 kg incl. Packaging)
Download as PDF
CHM 15k: On-site calibration & on-site check of the calibration - How to do? How often to do?
Lufft is offering a cloud simulator tool to check the instrument quality in field.
The simulator generates different light pulses and background light levels to test the detection unit and the data acquistion path of our CHM units. The starting point is the laser itself. The laser pulse is detected by the simualtor and time shifted LED pulses are generated. By comparision with the instrument specific production protocol the user can easily see differences in the calibration. The simulator takes a test time of 30 minutes in maximum and should be repeated once per year to verify the status of the system.
In case the instrument is showing an error or the results of the simulator are out of specs, the LOM (laser optic module) of the CHM instrument shall be exchanged. It can be repaired and recalibrated in lab.
Furthermore, on-site calibration in field can be done to achieve absolute backscatter values from aerosol layers. The absolute calibration can be done in two different ways:
1) comparision with another lidar instrument, which should have a sensitivity 10 times better than the ceilometer and should have at least the same range resolution of 5m.
2) clear sky calibration and specific rain cloud calibration ( both methods will be implented by the European Met services shortly. There is an ongoing project to deliver the algorithms. Please check:
http://www.toprof.imaa.cnr.it/index.php/short-term-scientific-mission/8-1-short-term-scientific-mission
http://www.toprof.imaa.cnr.it/images/toprof/working_group/TOPROF_WG1_2015_UpdatedWorkPlan.pdf
Advantage: The Rayleigh calibration and the cloud calibration method do not need additional equipment.
The on-site calibration takes 24 h to 1 week to be able to compare different cloud and aerosol layer situations. In a rainy season, in permanent low cloud, brown cloud or in foggy places the on-site atmospheric calibration might not work at all and our cloud simulator check of the lab calibration gives you the best result.
Back